Ankr 2022 : A Year In Highlights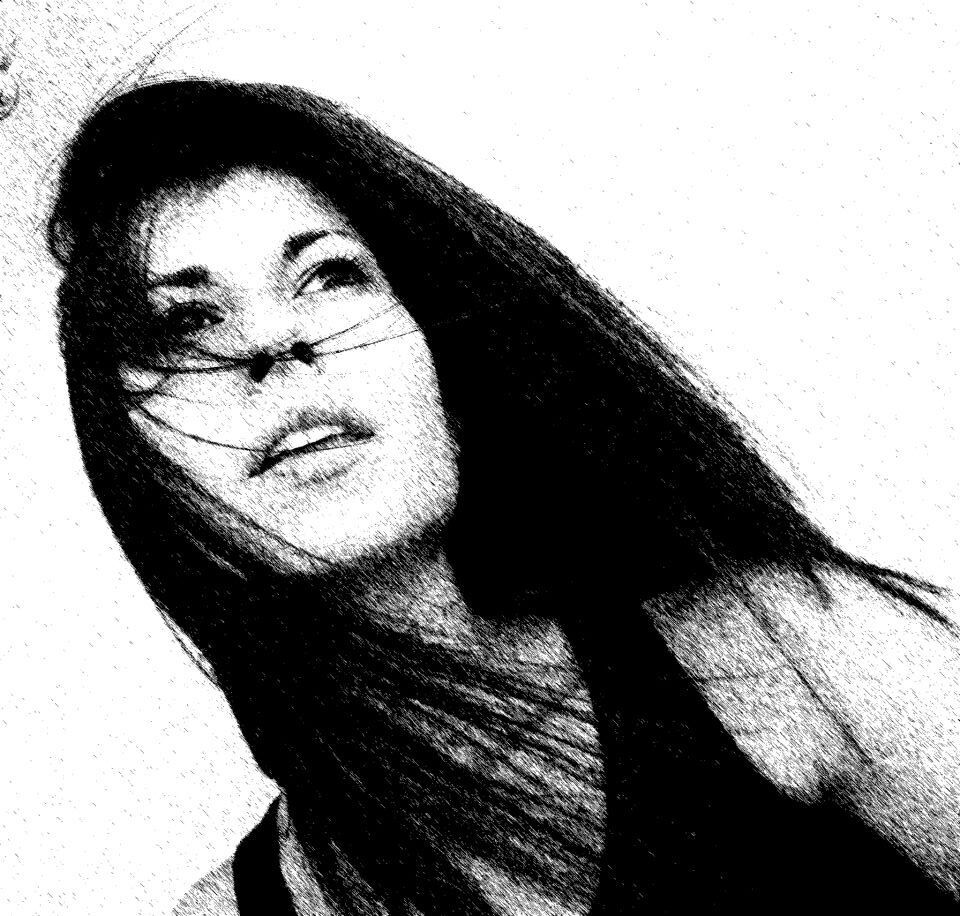 Galina Mikova
December 30, 2022
9 min read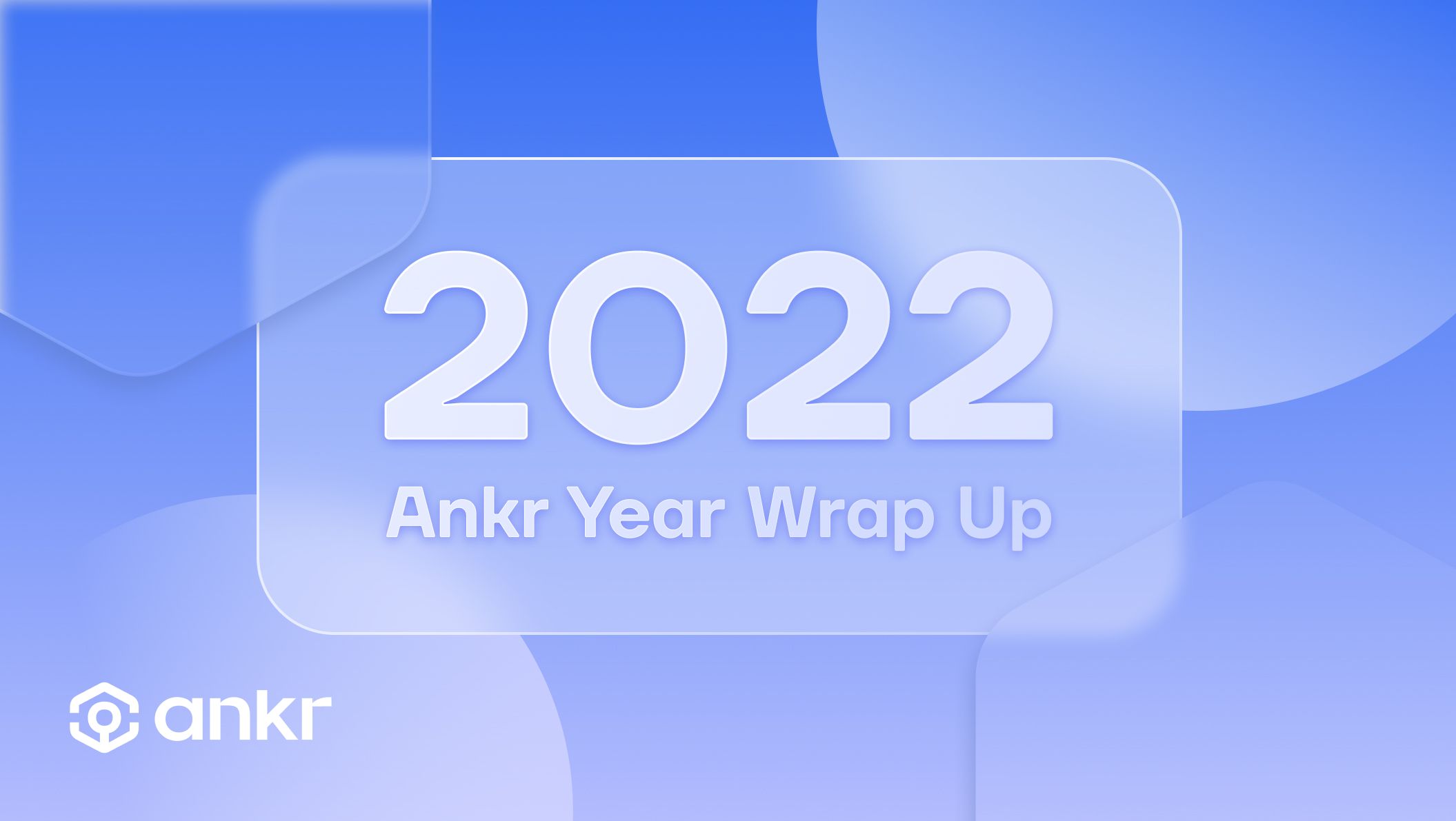 2022 was a pivotal year for blockchain and, in many ways, for Ankr. The past months were filled with building, launching, and iterating products that multiplied developers' power to build successful Web3 experiences. These new experiences, applications, and networks have matured the technology and set the stage for the next market cycle – one that will likely amaze us all with the speed at which new users and institutions alike adopt it.
As we stand on the verge of a new year, the time has come to reflect on all the events and milestones of 2022 and see how Ankr has innovated to be more than ready for what's coming next.
Adding new connections to the blockchain via global RPCs
To further its mission to empower the web3 ecosystem through decentralized innovative technology and tools, Ankr engaged in strategic collaborations with protocols, platforms, and blockchains. 2022 was especially busy for Ankr's RPC service, adding many new partners and connections for key blockchains. We're particularly proud of being among the first providers to Sui, Aptos and Optimism and meet the growing need for RPC endpoints serving as a gateway for developers to interface directly with these chains.
In February, we teamed up with IoTeX - the leading decentralized network powering the future of Web3, the Internet of Things, and the machine economy (MachineFi) – to build a robust global network of nodes.
March rolled around with another strategic partnership with Syscoin, a multi-layered blockchain network. The addition of a high-performance Syscoin RPC incentivized independent and enterprise Syscoin node operators to add their nodes to the Remote Procedure Call in return for ANKR tokens. Launching Syscoin's RPC removed developers' need to set up their Syscoin nodes, saving them hours of setup and adding many additional Syscoin nodes to create a more robust network.
In April, we released Public and Premium RPCs for Harmony - a layer-1 blockchain that enhances scalability with sharding and an "Effective Proof of Stake" mechanism to introduce more decentralization and security. Ankr's Harmony RPC endpoints are a gateway for interfacing directly with Harmony catering to the thousands of new developers looking to work with Harmony.
And that was just the beginning! We followed the first quarter of 2022 with even more integrations, launching RPC connections to in-demand blockchains Optimism, Aptos, Gnosis and Klaytn, and becoming one of the first providers of a new RPC service for the highly anticipated blockchain Sui. We're confident Ankr's strategic move ahead of extending Sui testnet to a mainnet connection as soon as it is live (estimated early 2023 will amplify the utility of the "smart contracts platform" and Layer-1 blockchain from Mysten Labs. Our RPC service is also compatible with the Sui SDK, enabling more streamlined development.
Optimism marked our 17th RPC partnership to support the developers' community with a robust RPC layerwith the ability to handle vast traffic loadsthat handle vast traffic loads. The partnership is also an amazing update for dApp developers looking to integrate capabilities for low-cost and lightning-fast dApps. Each new addition to Ankr's RPC service marked an important milestone in bringing new tech and scalability benefits to Web3 developers so they can build applications with the ability to reach billions of new users with an improved Web3 experience across multiple blockchains and environments.
To provider builders with more ways to develop on web3, we introduced a new Pay-as-you-go model for Ankr Premium RPC services. Previously, those using Ankr's Premium Plan all needed to pay the same annual fee. But now, our PAYG plan will allow developers to use our service more flexibly and efficiently – paying for RPC requests as they make them.
Ankr grew by 2,000% in serviced RPC requests in 2022 and is currently at the forefront with more supported blockchains than any other provider with 23+ (and still counting…) Proof-of-Stake chains . With 40,000 distinct developers and 30+ global regions with nodes serving traffic, we're going strong and setting the standard for RPC/API connections to different chains.
Scaling Web3 Infrastructure through Bare Metal Servers
Web3 infrastructure, L1 and L2 integrations and dApp development have come a long way in just a few years, and 2022 saw Ankr lead the way in  promoting global decentralization. Our partnership with bare metal provider, Maxihost opened new avenues for monetizing existing unused server capacity through Ankr Protocol while supporting a more distributed global node network. This is a step in the right direction for promoting the growth and increasing the adoption of Web3 platforms, applications, and services.
Maxihost's global platform, in tandem with Ankr's monthly volume of 250 billion requests across 50 blockchain networks, means we can continue expanding distributed global networks and improve inter-node communication latency to meet the growing demand for nodes.
Building the Future of Blockchain in Sports
Crypto and sport have long been a winning combination, and pioneers like Chilliz paved the way for a new form of team-fan engagement, interaction, and monetization. Chilliz's partnership with Ankr will lead the development of Chiliz Chain 2.0 (CC2) – a new Layer-1 blockchain- and enable sports and entertainment brands to start building for this new digital paradigm. Having already pioneered the widespread use of blockchain technology by elite sporting organizations, the first Layer-1 blockchain created especially for the sports and entertainment industries will catalyze the broader adoption of blockchain technology across sports and entertainment.
Global Presence on Offline Events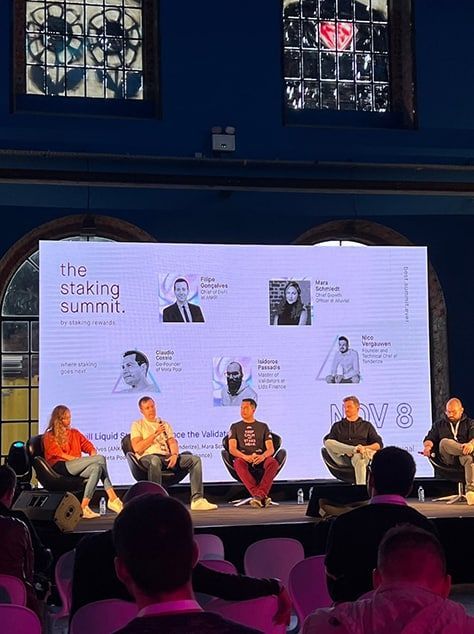 The Ankr team was busy flying around the world and participating in some of 2022's most happening summits, blockchain expos, conferences and events. We hosted AMAs, our co-founder Stanley Wu gave an interview for Nasdaq, our head of product, Josh Neuroth, spoke during a mainstage panel discussion and hosted a workshop and our Head of DeFi Filipe Gonçalves dived deep into the mechanics of benefits of liquid staking at the Staking Summit.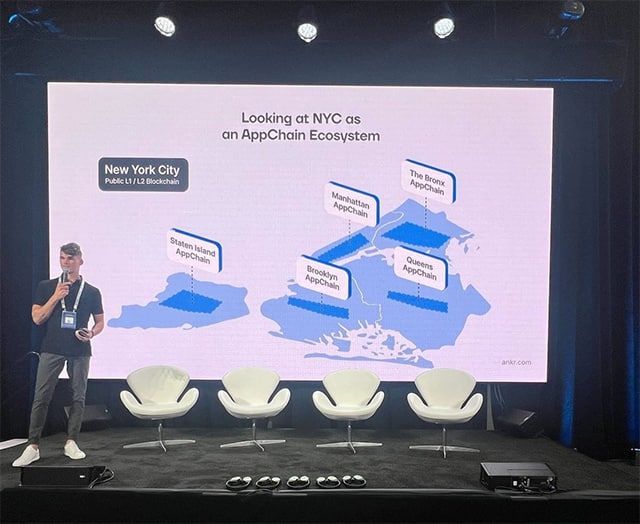 Between developing new products, adding new nodes to our RPC service and forming new partnerships, we found the time to be a part of the Eth Dever Web3 hackathon, the Avalanche Summit, Binance's Blockchain Week Paris, Messari New York and throw a kick-ass Ankr Party in Amsterdam for Eth Amsterdam.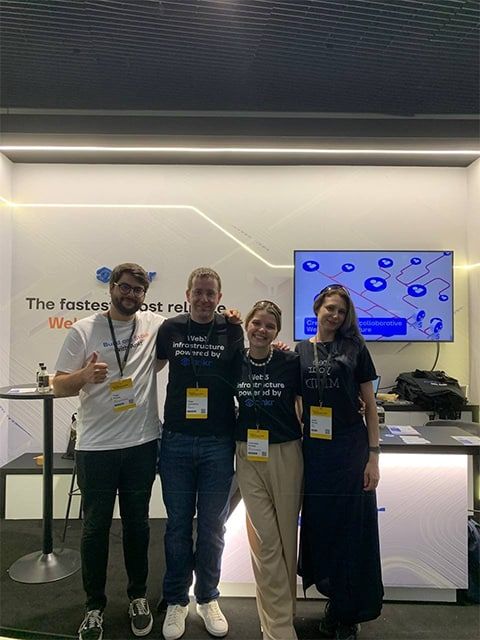 Getting Our Gaming On
2023 saw Ankr hit another milestone regarding expanding our product offering with the launch of a Gaming SDK to accelerate the advent of Web3. Beyond giving game developers everything, they need to create an amazing Web3 game, from best-in-class web-3 infrastructure to NFT's, marketplaces, and multi-chain wallet integrations. The feedback was so positive that we decided to take this to the next level with a Second Gaming SDK on the popular Unity and Unreal engines to allow developers to integrate games with multiple blockchain ecosystems including Ethereum, BSC, Polygon, Fantom, Avalanche, and more.
We're thrilled that Meta Apes chose Ankr's Gaming SDK and AppChain-as-a-Service to create a Web3 gaming experience out-of-this-world! The real player-owned Web3 Game runs on BNB Application Sidechain (BAS), which allows it to have its own chain dedicated to Meta Apes only (Ape Chain).
Ankr's comprehensive gaming SDKs supporting Unity and Unreal Engine provide an easy-to-use, complete solution for adding a wide range of Web3 features that will make games more fun for players in the coming Web3 era.
Creating a New Environment for Decentralized Development
To meet the growing demand for Web3 projects and dApps scaling solutions, Ankr launched several products to provide developers with maximum flexibility and sovereignty. Our AppChains are an end-to-end solution for creating app-specific chains on ecosystems to build extremely customizable blockchains with higher performance, usability, and interoperability levels. To further enhance developer experience when operating with the AppChains, Ankr launched Chainscanner, an all-in-one block explorer and crypto analytics platform for app-specific blockchains (AppChains).
One of the high points in the AppChain product offering was the launch of the first Binance Smart Chain Application Sidechain (BAS) testnet along with Celer and NodeReal. This announcement was a critical moment in the BNB Chain's 2022 roadmap, and Ankr was proud to support the BNB ecosystem as an infrastructure partner. The Binance Smart Chain Application Sidechain (BAS) framework will allow developers to build highly scalable dApps and games on Binance Smart Chain via dedicated sidechains.
Further to our efforts to support developers in integrating Web3 capabilities into their projects, Ankr also released Advanced APIs. The collection of RPC methods was created to simplify querying blockchain data of all types. With Ankr's Advanced API service, the blockchain data developers need is easier, quicker, and cheaper to retrieve.
Becoming a Default Infra Provider on Ethers.js Library
Ethereum remains the golden standard for Dapp development and its Ethers.js library is the complete and compact library for interacting with the Ethereum Blockchain and its ecosystem. Becoming a default infra provider on Ethers.js library is a true testament of trust in Ankr's capacity to provide a safe, robust and easy way to begin developing on Ethereum, and for use in production.
Working to Bridge CeFi and DeFi
Crypto is moving toward the mainstream. As part of our efforts to increase adoption  Ankr joined Start Path Crypto, Mastercard's blockchain-focused startup engagement program and other companies and startups. We view this move as the next logical step in acquiring the partnership opportunities, insights and tools we need to grow and position crypto from largely speculative investment to a global financial phenomenon.
Ushering In a New Age in Liquid Staking
2022 was the year when liquid staking became a dominant trend in DeFi, gaining traction with 11 billion $+ deployed through liquid staking protocols. Throughout the year, Ankr was at the forefront of liquid staking developments, developing and supporting liquid staking products on seven different L1s and continuing to expand.
As part of our Liquid Staking tokens model overhaul, we simplified users' staking experience - removing reward-earning tokens (b-tokens) and standardizing the names of reward-bearing tokens (c-tokens).
Staying true to our ethos of growing and preserving wealth in a decentralized manner, we launched a Referral program that lets anyone become an Ankr partner and generate more revenue attracting new users to Ankr Liquid Staking.
Although we experienced an exploit on the aBNB token due to a social engineering attack this year, we learned a lot from this incident, were able to act fast and contain losses. As unfortunate as this exploit was, we executed a Recovery Plan and are proud of how the team handled the situation at every turn and did right by taking care of our community.
We're ending the year on a high note as a top 1 liquid staking provider with $144.9m in TVL (Total Value Locked) and an Average APY of 4.35%.
Increasing exposure for the $ANKR token
$ANKR is the glue that holds the whole Ankr ecosystem together, and we're thrilled to see its acceptance is on the upswing as the token got listed on Kraken, one of the most popular cryptocurrency exchanges used by many on a global level. The listing on Kraken represents yet another top-tier exchange listing with $ANKR already listed on some of the biggest exchanges on the market – Binance, Coinmarketcap, Bithumb, Bittrex, and Kucoin, to name a few.
In 2022, the $ANKR token was in the spotlight for all the right reasons, including a new staking mechanism to amplify rewards and returns for our community and users. The launch of Ankr Network 2.0 saw us introduce staking to independently run full nodes, allowing users to stake their tokens with the independent full nodes running on our new decentralized Network.
These are just a few of the ways we sought to enhance our ability to offer our clients and users the finest services by working side by side with crypto projects, DeFi protocols, blockchains and DEXs. And as 2022 brought about significant challenges to overcome, we are confident we remain on the right track humbled and empowered by the continuous support of our community and partners. We can't think of a greater testament to the trust we've been given than Binance Labs' strategic investment in Ankr and our rapidly growing global community.
Thank you for a fulfilling 2022, and we look forward to building with you in 2023!