Why Use Ankr? Big Savings On High Performance RPC Services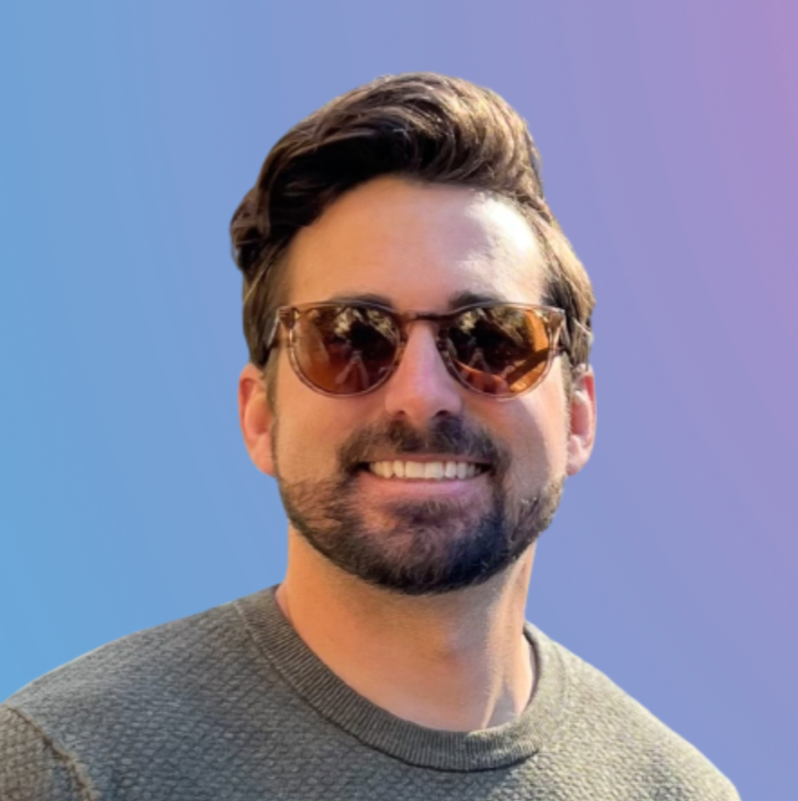 Kevin Dwyer
January 20, 2023
4 min read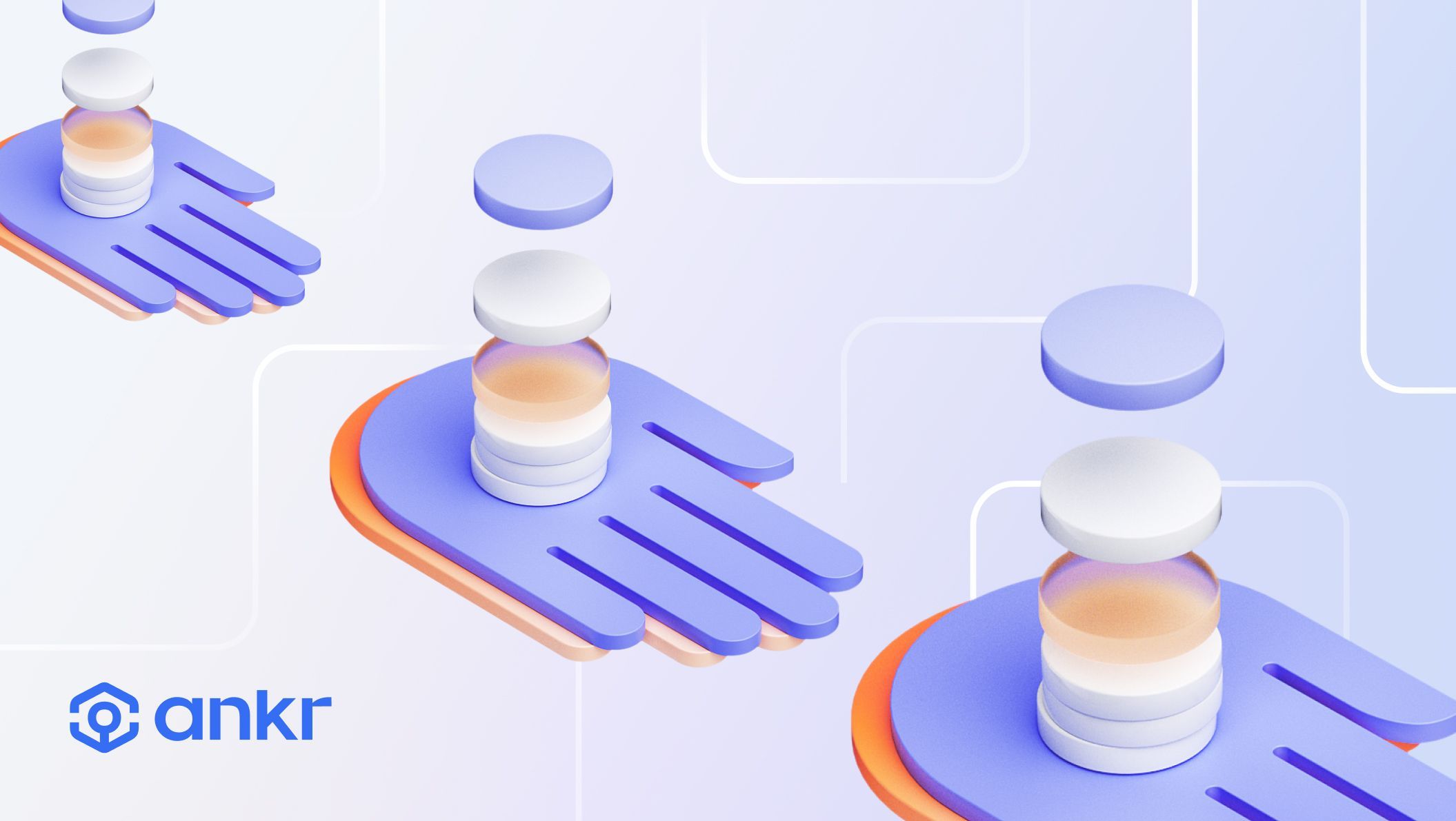 When it comes to choosing how to connect their projects with blockchain data, most developers want the option that provides the highest performance possible – but for projects with a limited budget, it helps if that service comes with an affordable price tag. Ankr provides all services with our community of developers in mind first and foremost. This is why we've positioned our core RPC service to be the highest quality and most affordable option available to Web3 builders.
Predictable Pay-As-You-Go Pricing Ensures You Never Overpay
Most RPC/API service providers have a pricing system based on daily request limits with a monthly subscription plan. Often, the price of each RPC request call is estimated differently in how much processing power it consumes in "compute units," making it difficult to anticipate how quickly your monthly compute unit allotment will run out. If it does run out, you will most likely need to pay overages which can be quite costly (in addition to your subscription). This all leads to a customer experience that makes it more confusing for builders in knowing what their monthly costs will be as they frequently pay for more than they use.
However, Ankr's Premium RPC plans are much more predictable, powerful, and affordable.
Pricing per request method is the same for all EVM-compatible chains
Pay-As-You-Go per RPC request ensures no overpayment from a subscription
Option to pay in crypto for any service tier
1,500+ requests per second regardless of compute units (upgradeable on request)
No limit to how many of your apps use the service
Option to sign in with a Google account or Ethereum Wallet and pay with a credit card
Visit our pricing page for more info.
Pay Less for Flexible Plans That Scale With You
Ankr has created our pricing system to be as stable and cost-effective as possible for our users. The price of Ankr's API Credits is always pegged to USD. And when using ANKR tokens for Pay-As-You-Go plans, ANKR automatically calculates API Credits at the latest ANKR/USD exchange rate. However, many users like the simplicity of credit card payments, and you can see prices in USD clearly in the chart below.
In either payment method (ANKR or USD), it is much easier to anticipate what your daily, weekly, and monthly costs will be. That's because request type prices are greatly simplified, and users will be able to gauge their usage costs easily once they know their average daily requests per EVN/ non-EVM chains. And the best part is, if your usage is down, your costs will fall as well. You won't have a set monthly cost or additional fees waiting for you. And no worries, if you run out of credits – your account wouldn't be suspended, it will just convert to the free plan, and your Premium benefits will be reactivated immediately after the payment.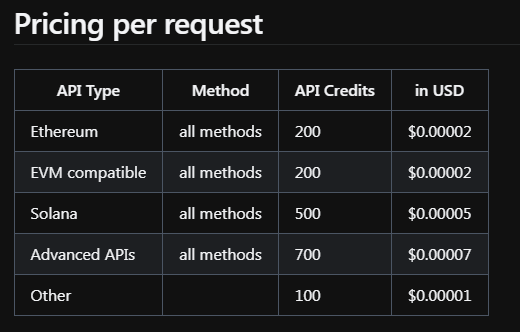 Our PAYG pricing model:
0.10 USD = 1M API Credits
Learn more about our pricing in the Ankr Docs.
Affordable, Developer-First Pricing Saves You Money
Ankr provides developer-first pricing for Premium RPC services at competitive rates across all supported chains (more than any other provider). More than that, we are transitioning to a model that shares all RPC revenue with independent node providers, creating a more collaborative and decentralized way to serve blockchain traffic.
The graph above shows a price comparison of how much it would have cost SpiritSwap to make 8,590,000,000 requests using each provider (a real monthly figure for their usage of Ankr's RPCs). We used SpiritSwap as an example because their large scale of multichain traffic makes it especially important for them to save on infrastructure. You can see that Ankr charges drastically lower rates than our main competitors.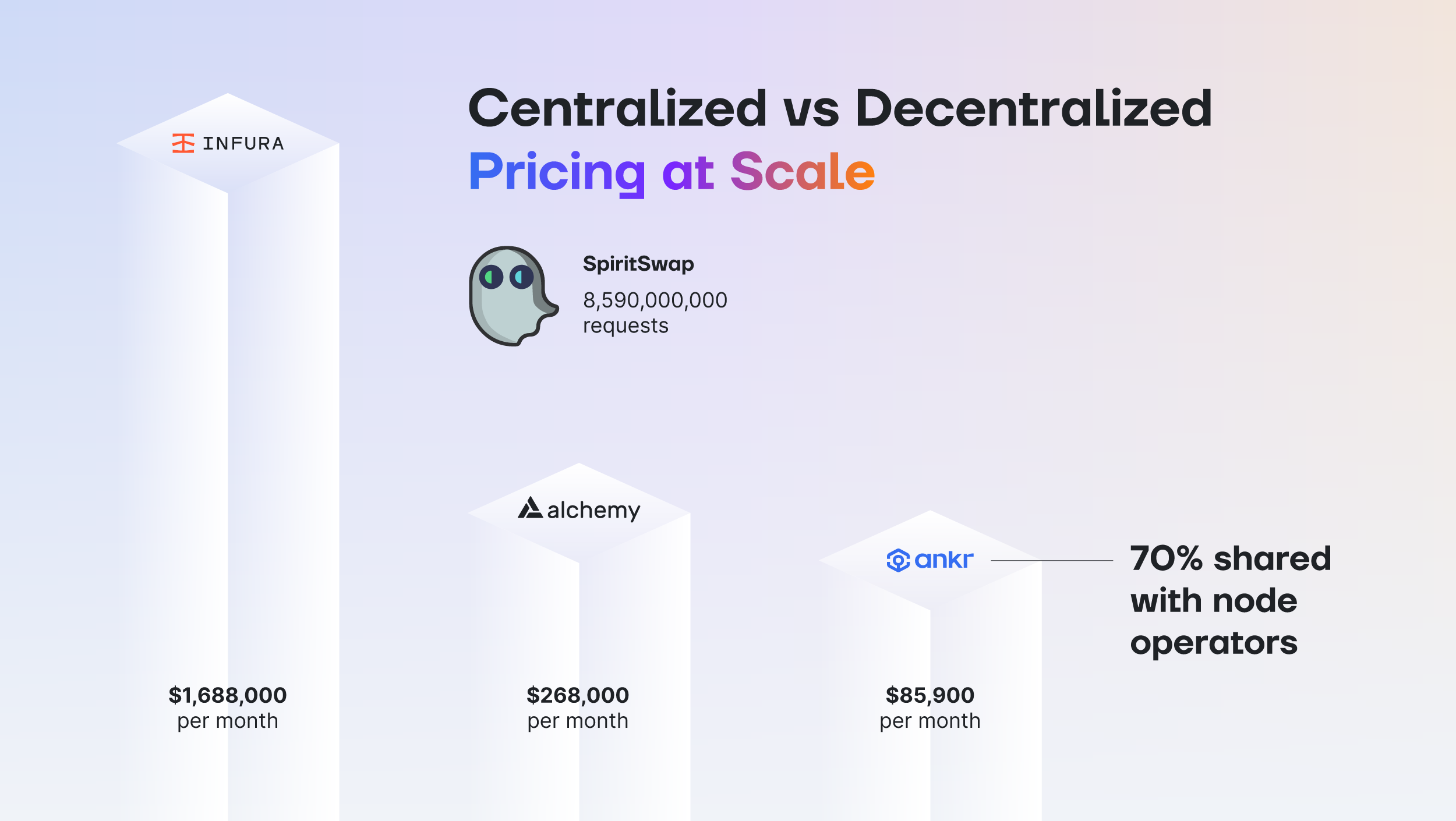 Estimated price comparison from May 2022
Easier Payment Methods Save You Time and Effort
Ankr is a Web3-native organization, but many of our users will love the simplicity that comes with logging on via their Google account. New users can sign up and log in with Google authentication as an easy way to get started and top up their account balances with a credit card. Additionally, those who create an account with a wallet like MetaMask now use credit cards as a payment method.
Create an account easily with Google
Pay using your credit card (accepting the most common global credit and debit cards)
Access all the ease of use and security features of Google
Create a new account in two clicks with Google.
Never Sacrifice Performance for Affordability
Ankr isn't just leading the pack in pricing. Our RPC services have consistently outperformed the competition in every area developers care about:
Latency
Reliability
Supported Blockchains
Global Distribution
User Experience
Decentralization
We've broken all of it down here – see where Ankr stands in performance.
Join the Conversation on Ankr's Channels
Twitter | Telegram Announcements | Telegram English Chat | Help Desk | Discord | YouTube | LinkedIn | Instagram | Ankr Staking