Ankr Leads the Pack In Blockchain RPC/API Services: A Year of Outstanding Performance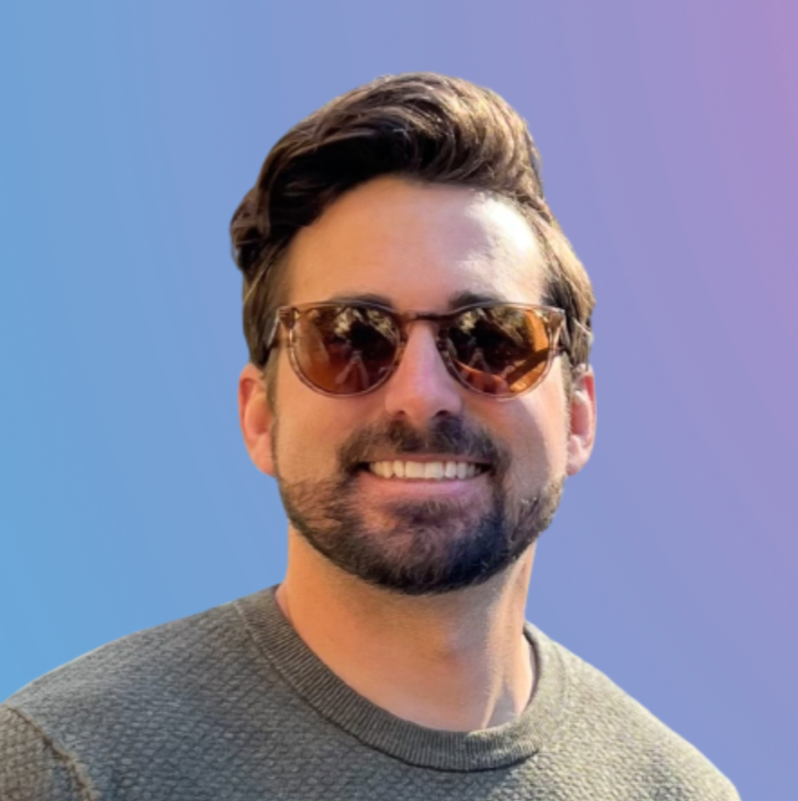 Kevin Dwyer
December 16, 2022
8 min read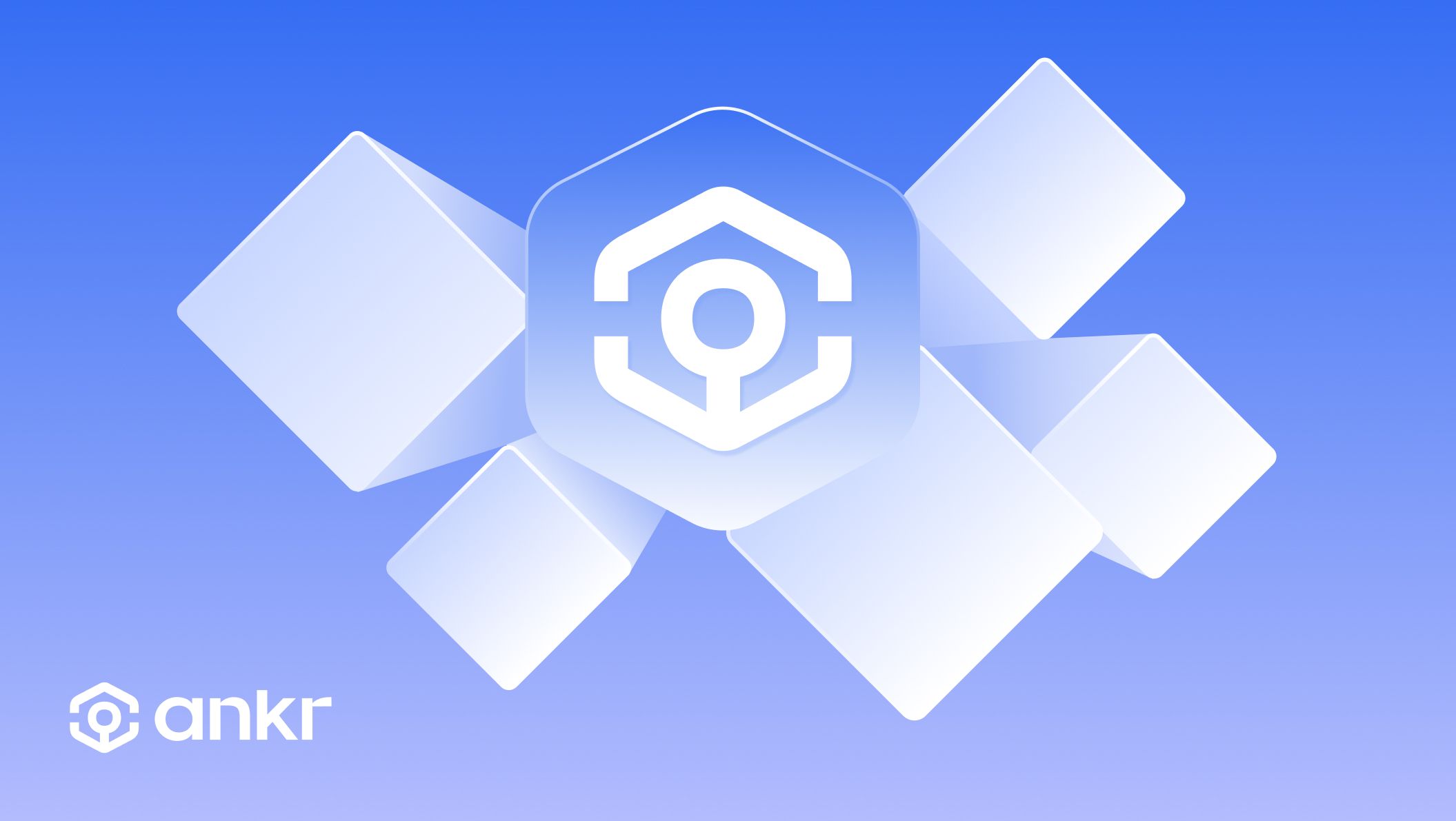 text
Since 2017, Ankr has been helping blockchain developers create dApps by providing the highest quality RPC/API connections to different chains. Exceptional dApps need high-performance infrastructure – that's why Ankr has become the go-to provider for projects requiring a higher bar of service.
Ankr powers dApps while excelling in every metric that matters when connecting to blockchains:
Speed
Reliability
Affordability
Supported Blockchains
Global Distribution
User Experience
Decentralization
Why Does RPC Performance Matter?
RPC connections are the messengers or "blockchain routers" that relay on-chain information between nodes, dApps, and ultimately end-users. This allows users to execute necessary tasks like sending transactions, populating wallet balances, fetching ownership information, and more within Web3 experiences, apps, and games.
Good RPC services:
Make dApps & smart contracts load faster and work
Ensure dApps stay up and operational
Provide accurate results for read/write data
Create a seamless, positive UX
Below, we'll explore why more developers are moving to Ankr for their blockchain infrastructure needs and why we are leading the pack in service quality – based on neutral, hard data.
Ankr's Infrastructure Was Built From The Ground Up
Most Web3 infrastructure providers use AWS data centers exclusively to house their nodes. Web2 cloud and database technology often falls short when attempting to deliver quality blockchain RPC/API services. The requirements of decentralized systems are much better served by infrastructure that has been customized and built specifically to serve unique demands. Using AWS limits the global distribution of nodes and leads to higher latencies. It also creates a big problem if AWS goes down as all of the dApps that depend on these nodes to communicate with the blockchain go down with it.
On the other hand, Ankr has spent years building our server/node infrastructure from the ground up, customizing it specifically for the demands of Web3:
Other providers
Provide a cloud-based service using AWS
Constrained to AWS data center locations
Complexities of Web3 tech bog down servers with traditional data validity requirements
Ankr
Serves requests from a high-performance blend of bare-metal and cloud servers globally
In more global data centers in more locations than any provider
Runs nodes on custom servers optimized for blockchain & our tailor-made software
More Web3 Projects Are Using Ankr
Quick 2022 stats:
Ankr grew by 2,000% in serviced RPC requests
8 Billion daily RPC requests served
Dozens of networks & testnets supported
40,000 distinct developers
30+ global regions with nodes serving traffic
Faster Speeds
The map below shows where Ankr is outperforming our main competitors by providing extremely low-latency RPC connections. The blue circles show where Ankr performs better in terms of response times measured in milliseconds (in every global region) and the number of chains we are providing faster times for. Keep in mind that the radius of the circles isn't showing coverage areas – only where the nodes are located. Any dev or Web3 application can reach Ankr's infrastructure from anywhere in the world with an internet connection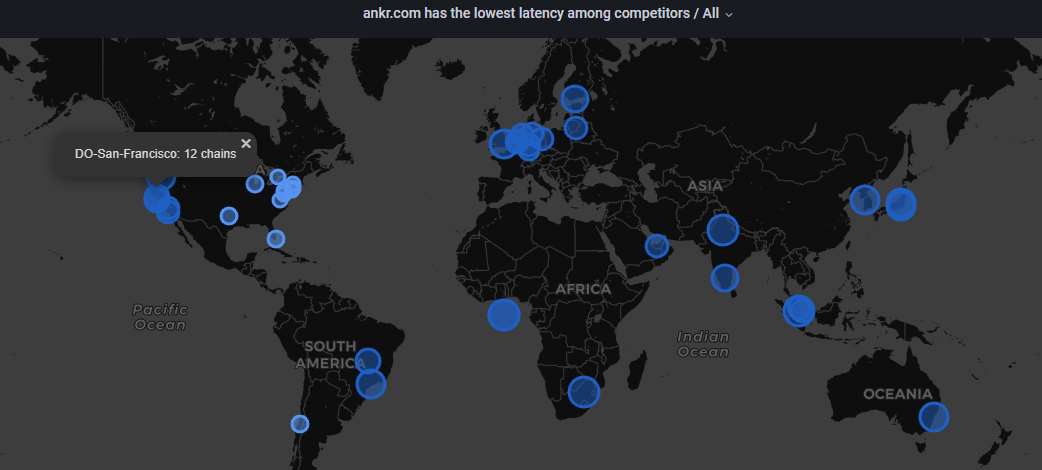 Sourced from our internal measurement tool in Grafana that uses neutral comparison data collected from Ankr, Infura, Alchemy, Chainstack, and Quicknode over 30d prior to Dec. 15.
Ankr has some of the lowest latency RPC connections in the industry that consistently test faster than our competitors in more locations and with more chains. But we use our internal testing tools primarily to constantly improve our services and identify any areas where we fall short.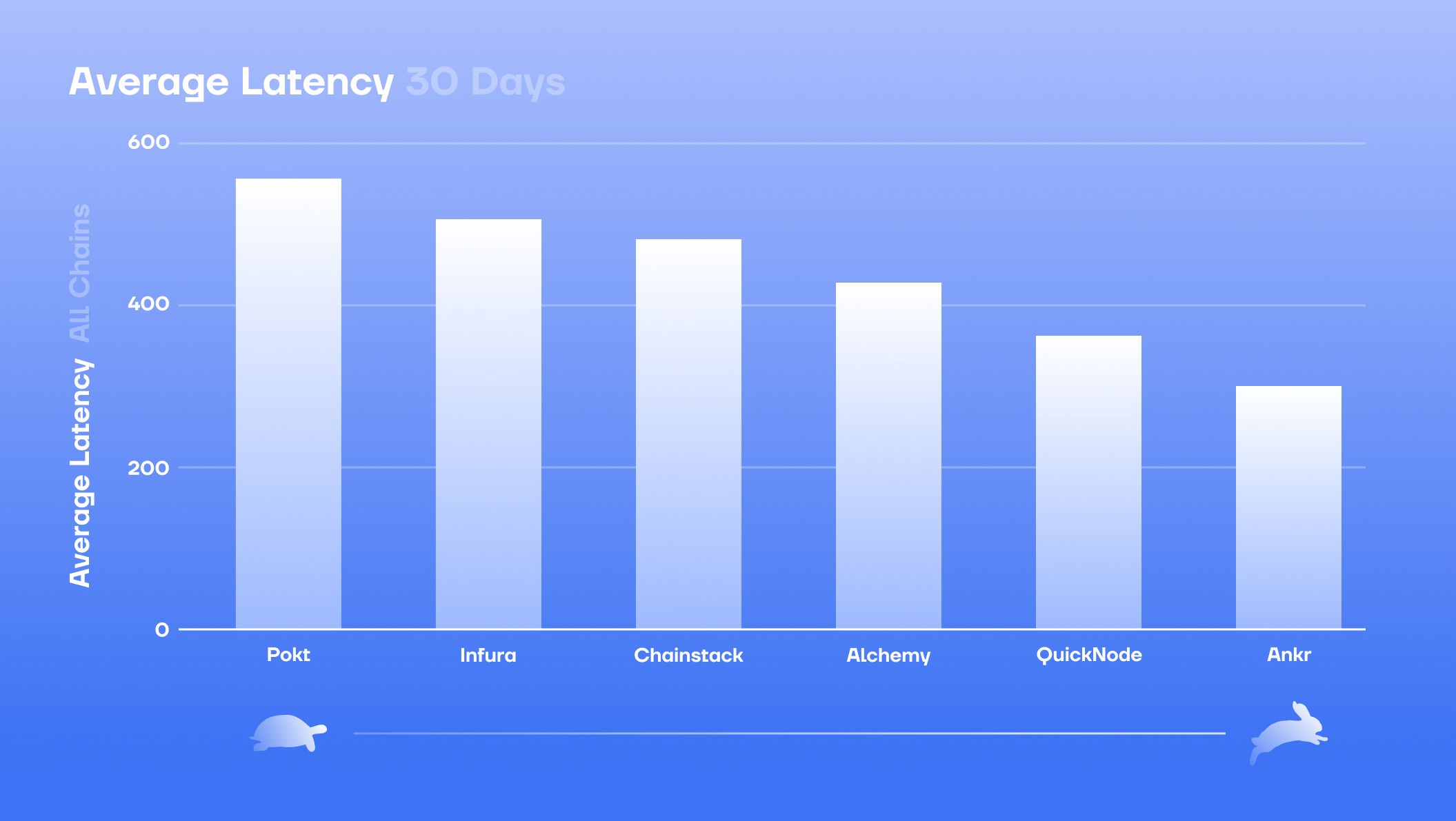 This graph shows the average latency in milliseconds (ms) for all blockchains, requests, and global regions for the past 30 days (from Dec 8th) using data from our internal Splunk dashboard.

This graph shows the breakdown of the number of global regions x the number of blockchains that Ankr scored the best globally for speed for 24h on Dec 15.
As a note, all latency experiences are highly dependent on any developer's physical location. You can test how providers stack up in your specific location by using our RPC Latency Comparison tool at any time. When using the comparison tool, remember that response times are highly variable and may change drastically every time you refresh. An hourly, daily, or weekly average latency (as shown in the graphs above) gives a more accurate and useful depiction of the data.
Additionally, there are some very significant advantages Ankr has in certain global regions where other providers simply cannot provide the same low latency due to the location constraints of their infrastructure. By Average Latency, across all our supported chains, Ankr tested significantly faster than all competitors in regions outside the US. For these results, it is important to understand that none of the providers have as broad of a selection of blockchains as Ankr, and these are overall statistics gathered as a global aggregate.
Speed is only one measurement of Web3 infrastructure. Sometimes who the "winner" is when it comes to speed comes down to a matter of 10ms – which is mostly negligible when it comes to the actual end-user experience. Although Ankr is outperforming other providers in the critical regions above, we also provide an exceptional level of service in every other category.
More Reliable
In Web3 infrastructure, RPC service reliability is measured in areas like node uptime that are well-indicated by failed request percentages. Across all chains, Ankr's infrastructure is currently logging around 1 failure per 100k requests. If a request reaches a node that experiences an outage or an error, our intelligent load balancer automatically re-routes the request to another node quickly.
Ankr consistently performs at the highest standards of uptime for providers. We have the added benefit of being more resistant to outages that affect centralized cloud providers from time to time as we use a unique blend of both bare-metal and cloud servers from Ankr and independent node providers.
More Affordable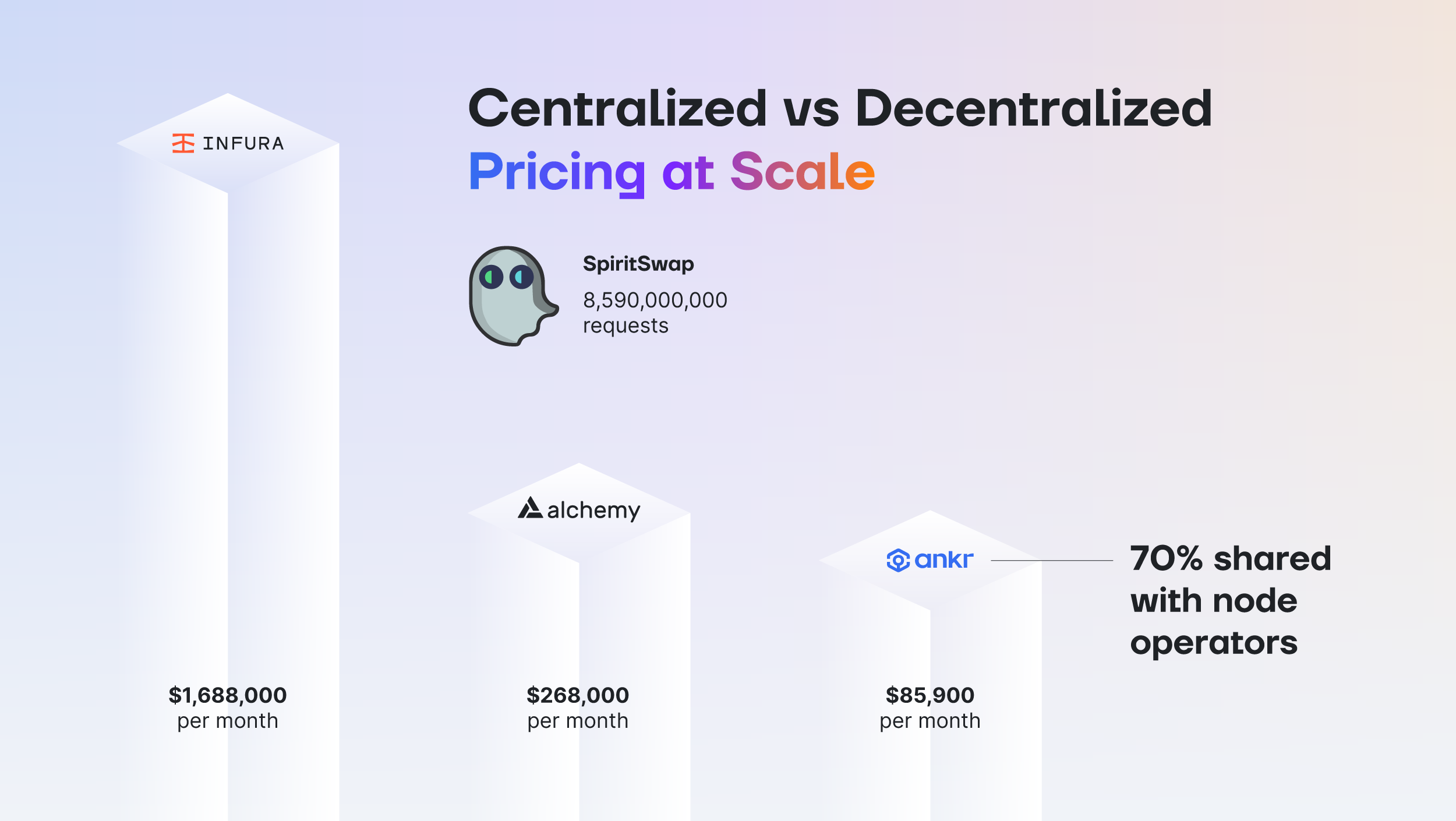 Estimated price comparison from May 2022
Ankr provides developer-first, pay-as-you-go pricing for Premium RPC services at competitive rates across all supported chains (the pricing per request method is the same for all EVM-compatible chains). More than that, we are transitioning to a model that shares all RPC revenue with independent node providers, creating a more collaborative and decentralized way to serve blockchain traffic.
The graph above shows a price comparison of how much it would have cost SpiritSwap to make 8,590,000,000 requests using each provider (a real monthly figure for their usage of Ankr's RPCs). You can see that Ankr charges drastically lower rates than our main competitors. Ankr also has a plan in place to deliver 70% of the pay-as-you-go RPC revenue coming to Ankr Network nodes to our node providers and token stakers. Out of the 70%, 49% will go to the individual stakers, and 21% will go to the node providers, as outlined further in our whitepaper.
Want to compare with other providers? Check our pricing chart to see our costs for dozens of request methods.
More Supported Chains Than Any Provider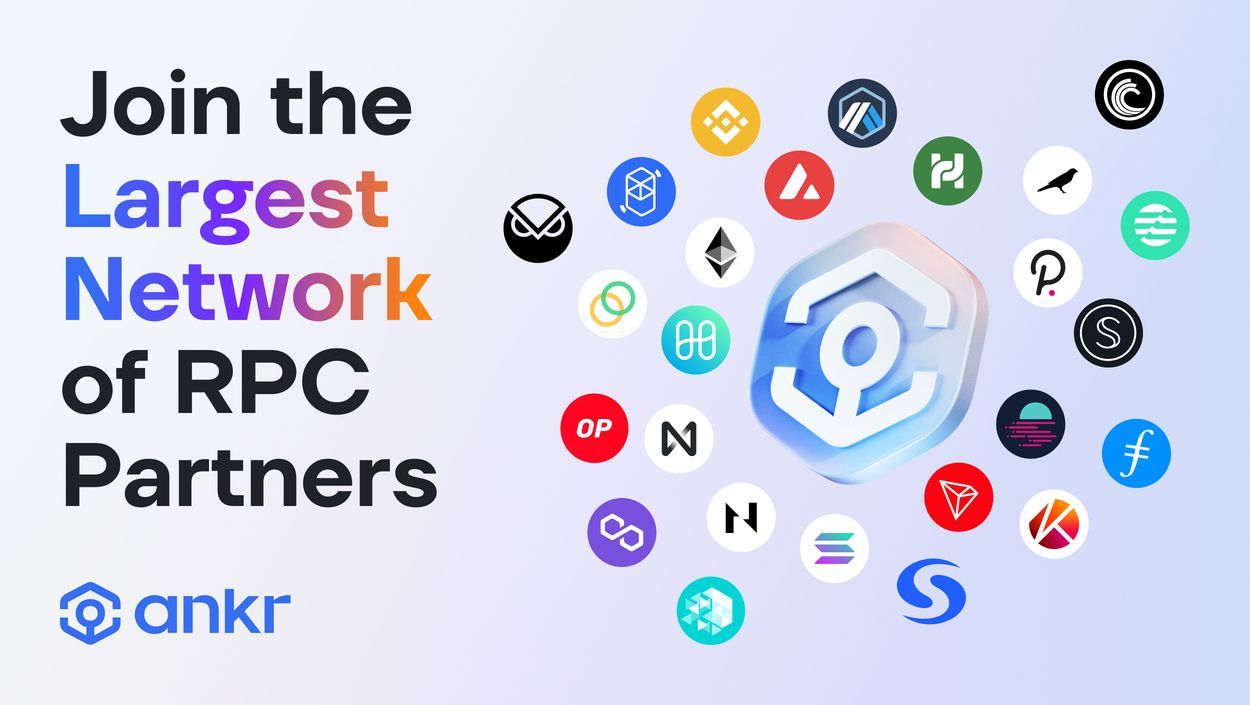 Ankr supports more chains than any other provider at 23+ Proof-of-Stake chains, with many more on the way. We believe that the future is multi-chain, and we're doing everything we can to ensure that developers have easy access to as many chains as possible, so they have more options when it comes down to choosing where to build. As a Web3-native company, Ankr has formed strong partnerships with the foundations associated with these blockchains while providing expansive open-source support.
See all supported chains by visiting our RPC dashboard.
Vast Global Distribution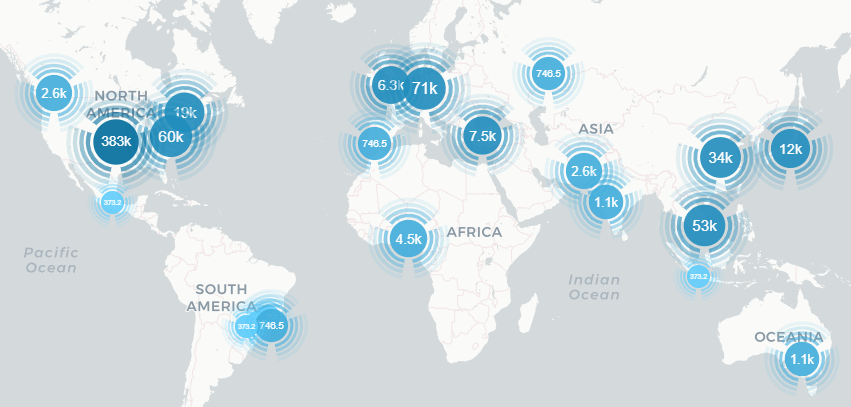 This map shows 24h of global user requests. Ankr places nodes strategically in all regions to ensure extremely fast speeds for all users.
Ankr serves blockchain requests from any location with incredibly low latency, thanks to our broad node locations in now over 30 regions (more than any web3 infrastructure provider). Ankr's infrastructure uses a highly effective blend of both bare-metal servers in colocation data centers around the world and cloud providers. And, since Ankr will begin onboarding increasingly more independent node providers (see the section below), we will be able to diversify our distribution even further.
Superior User Experience
Ankr's RPC dashboard is incredibly accessible, allowing ungated access to copy and paste endpoints for immediate blockchain connections. No login, email signup, data surrendering, or other blockers stand in the way. The interface itself is clean and extremely easy to use, with all infrastructure data, usage data, and other pertinent data neatly laid out for users. To access Premium services, users have the choice of  signing in with wallets like MetaMask or using Google sign-in with the ability to pay-as-you-go with ANKR tokens or with a credit card. We've even included an integration assistant with code snippets that are easily copy/pasteable for devs and available in a variety of programming languages.
Enhanced Decentralization
Ankr has long had a track record of having a distributed node infrastructure to help protect against the vulnerability of housing all nodes with one cloud provider like AWS. But now, Ankr is shifting increasingly to decentralizing its services by welcoming many more independent node providers to serve RPC traffic from our load balancers.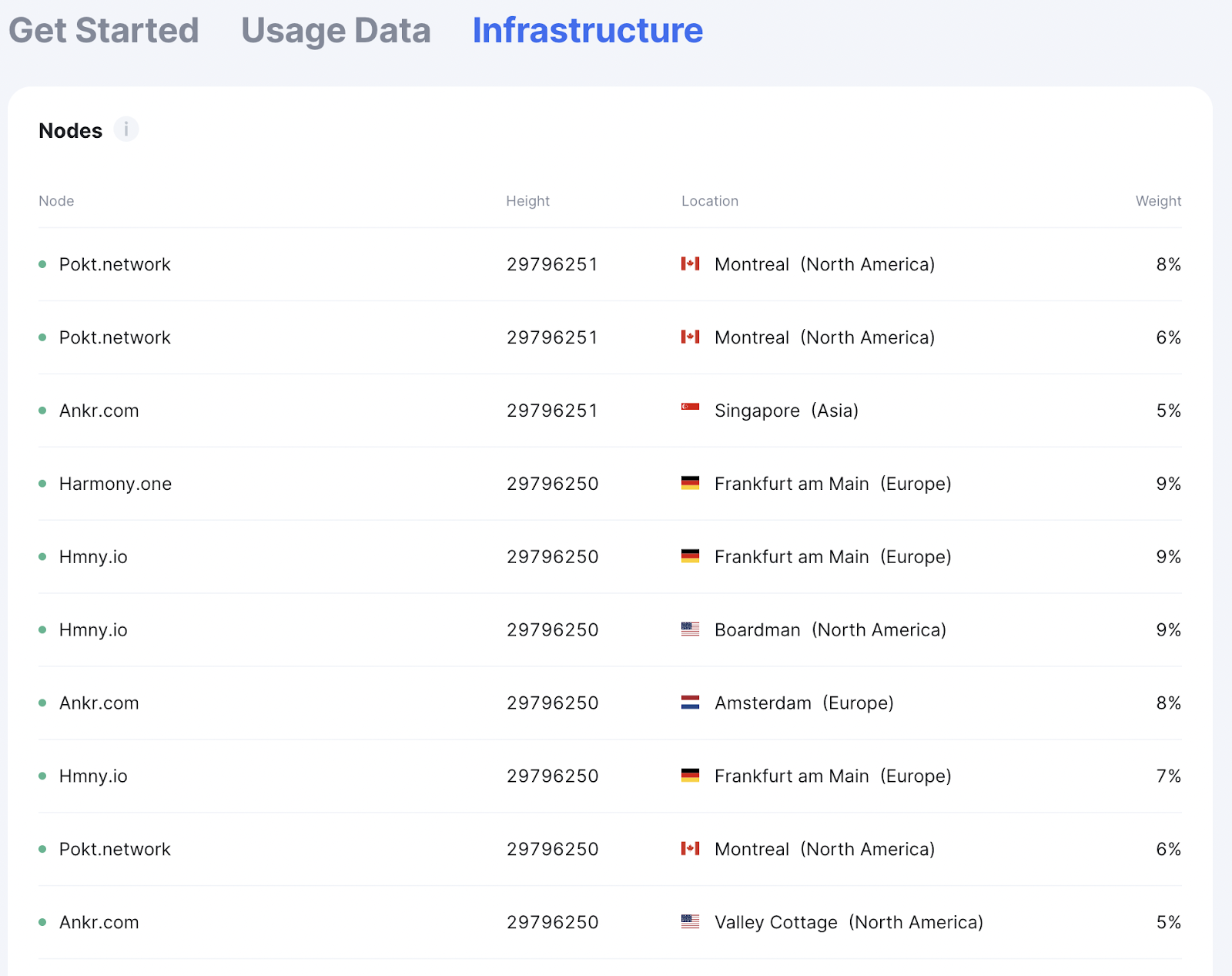 Having a decentralized infrastructure for the decentralized web is extremely important. Ankr is taking a big step to disrupt all infrastructure services (including our own model) by decentralizing. Ankr 2.0, as described in our new whitepaper, is a plan to build a completely decentralized and collaborative node infrastructure for Web3. Ankr Network has already begun onboarding many independent node providers that are serving thousands of blockchain requests as you read this:
Pocket Network
Harmony
IoTeX
Chainstack
Fantom Foundation
QuickNode.com
And more!
Our transition to decentralize Ankr's RPC services can be found in our new whitepaper.
Final Notes
In 2023, Ankr will continue boosting our performance for every chain by improving the node distribution, hardware, software, and all other aspects of the service. We will also continue our work in providing every public good possible for Web3 developers so they can build the future generation of dApps that welcome millions more to the new web in the coming year.
Join the Conversation On Ankr's Channels!
Twitter | Telegram Announcements | Telegram English Chat | Help Desk | Discord | YouTube | LinkedIn | Instagram | Ankr Staking